Description
Lost in the heart of an ancient forest, some walkers discovered the entrance to a forgotten city, the remains of an ancient civilisation – La Cité Suspendue!
The Celts who lived there worshipped trees and nature, and existed in perfect harmony with the spirits of the forest.
All the hamlets in the hanging city were built on stilts to protect the flora and fauna.

The hotel boasts 150 spacious rooms over 25 m².

La Cité Suspendue, it's also :
Ideally located

In the heart of the Gallic forest

150 rooms

Spacious rooms over 25 m² with terrace or balcony (1), sleeping up to 5 people (2)

Rooms specially designed for families

With a children's sleeping area separate from the parents' room

Breakfast included

Terrace or balcony

Air-conditioned rooms

Restaurant & bar

Free Wi-Fi

Luggage storage service

Luggage storage available and free baggage transfer Park/Hotel and Hotel/Park

Animals are not permitted in the hotel.

Check-in: the room is available from 5 pm / Check-out: 10 am
Tourist tax: €1.50 per adult (over 18s) per day.

(1) Terrace or balcony available for certain rooms, please ask us.
(2) Up to 5 people per room including a maximum of 3 children in the parents' room and a maximum of 3 adults in the room (1 parents' bed and 1 bunk bed).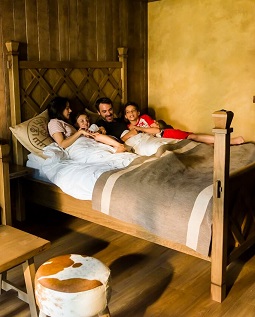 25 m²
1 x double bed, 1 x bunk bed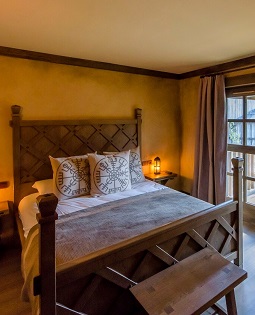 25 m²
1 x double bed, 1 x bunk bed, 1 x sofa bed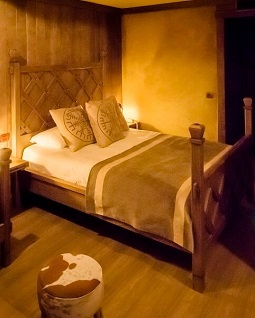 37 m²
1 x double bed, 1 x bunk bed, 1 x sofa bed
ON THE LEFT
AFTER THE MENHIR
See map