You are here
WITH YOUR
2020 PASS SAISON,
ENJOY THE ATTRACTIONS AND SHOWS OF PARC ASTERIX AT WILL !
Discount in restaurants (2)(3) shops (2)(4) and photo points (5)
Christmas season entry (7)(8)
Premium reserved seat for shows (9)
Entry to Peur Sur Le Parc night-time openings
Friends' rates for under 12s (10)
Reduced price for the Trois Hiboux
Cité Suspendue hotels and Les Quais de Lutèce (12)
J'ai acheté mon Pass Saison sur internet, comment le récupérer?
Vous pourrez récupérer votre Pass Saison lors de votre première visite en vous rendant dans une des caisses dédiées.
Lorsque je suis sur le Parc, y a-t-il un lieu où on peut me donner des informations concernant mon Pass Saison?
Rendez-vous au Point Pass Saison, à coté de l'Accueil, nos équipes répondront à vos questions.
Où se trouve le Point Pass Saison ?
Il se trouve à coté de l'Accueil du Parc, n'hésitez pas à télécharger l'appli mobile gratuite du Parc Astérix afin de vous orienter plus facilement.
Unlimited entry until 1st november 2020 except for late-night openings on 28, 29, 30 and 31 October 2020
Optional with the Pass Saison Gaulois Noël 
- 50% discount on ticket office price
For entrance tickets to Grevin, France Miniature, Walibi Belgium, Walibi Holland, Chaplin's World and Bellewaerde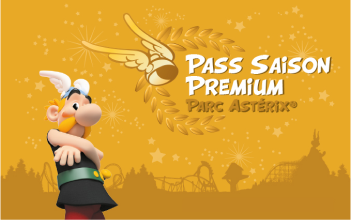 Unlimited entry until 3th january 2021 except 24th, 25th december 2020
1 privileged entry per season
For entrance tickets to Grevin, France Miniature, Walibi Belgium, Walibi Holland, Chaplin's World and Bellewaerde