Christmas Gauls
From 17 December 2022 to 1st January 2023
The Park invites you to discover a Gallic Christmas. Snow-capped menhirs, amazing slippery, slidey entertainment and activities, a charming little Christmas market and shows for a truly unique Christmas !
CHRISTMAS GAULS - FROM 17 DECEMBER 2022 TO 1ST JANUARY 2023.
To celebrate Christmas as it should be, the indomitable Gauls have called a truce with the Romans, with much use of snow-covered menhirs, amazing entertainment and activities and Christmas music.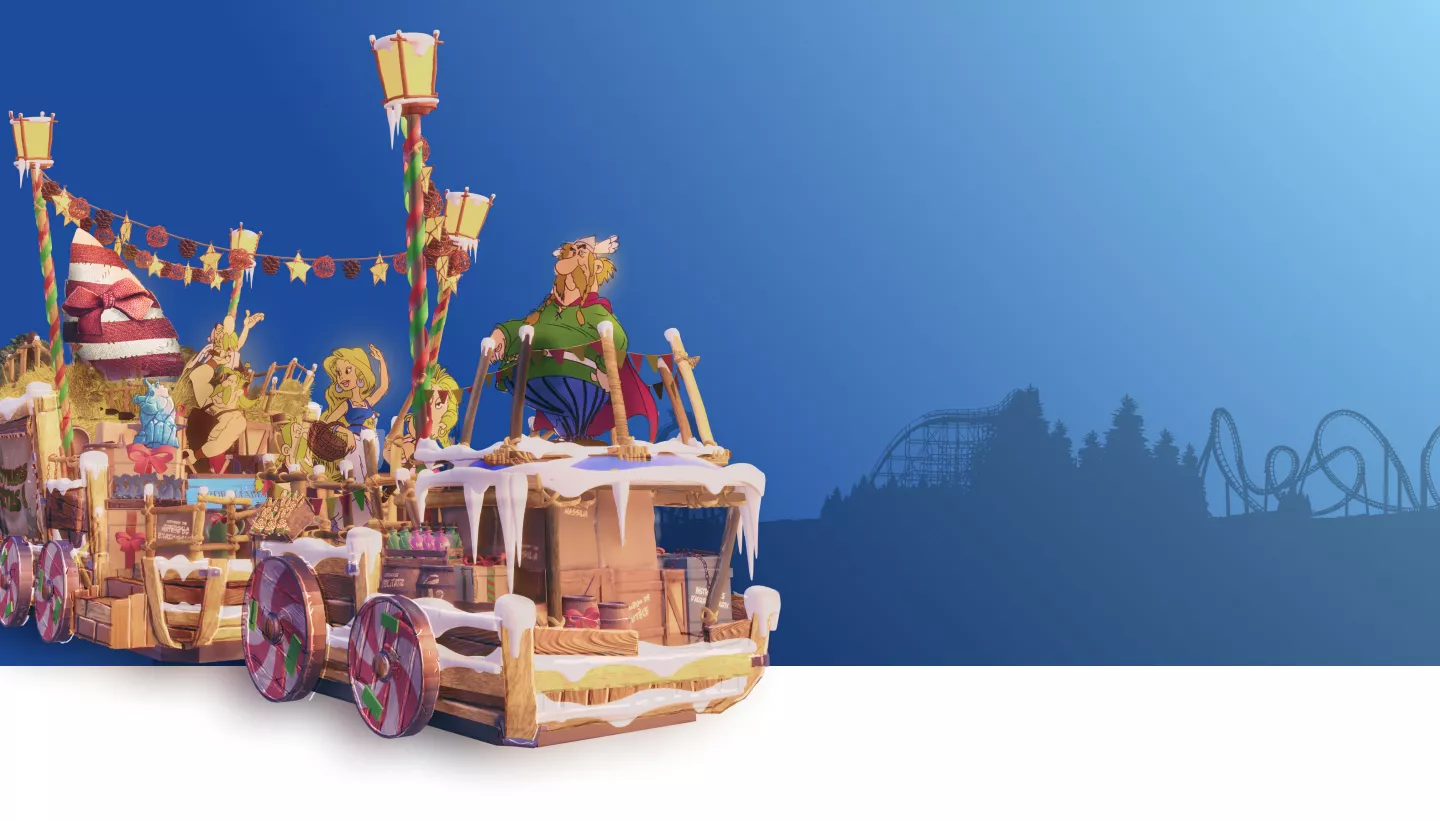 New Gallic Christmas Parade

For the first time, the characters will parade in the Park with several floats displaying the colors of Christmas.
Wonderful Christmas shows full of fun and excitement for all the family.
Attractions

Discover our attractions as you've never seen them before in a unique Chritsmassy atmosphere !

Tous en piste !
Slipping and sliding this winter at Parc Astérix !
In a special covered village space, get your skates on and get ready to twirl !
A skating rink, toboggan runs and a special chidren's area await you for maximum fun for all.
Extended your Gallic adventure and celebrate Christmas and New Year in one of our hotels.
Festive dishes and entertainment will be on the agenda on 24 December and 31 December !
Unique rate
Adult or child
Dated ticket
Valid from 17 December 2022 to 1 January 2023
Reserve at least 1 day in advance

Take your time and extend your Gauloise experience with a stay at the Hotel Les Trois Hiboux, Hotel La Cité Suspendue or Hotel Les Quais de Lutèce.
One or two nights at the hotel
Noël Gaulois

Gold Filotomatix Christmas
Tarif web
Quantité limitée
25€ in pre-purchase (29€ on site)
The Filotomatix Gold allows fast access without waiting(*) to 7 attractions
In addition to an entrance ticket
(*)A waiting time of about ten minutes may be observed.
FAQ - CHRISTMAS GAULS
The Parc will be open from 11am to 7pm, 17 December 2022 - 1 January, 2023.
What shows and entertainment will be on during Christmas with Astérix?
5 shows (Qui veut la peau du Père Noël ?, Quel Cirque !, Chronos : Magie et Illusions, L'Ile aux Voeux, Rencontres inoubliables avec les personnages) et 3 animations (le marché de Noël, Chantons Noël et le défilé Gaulois de Noël) will be on altogether.
Will the Christmas with Astérix theme run throughout the Parc?
For Christmas, La Rue de Paris, la forêt d'Idefix, le village Gaulois, la Via Antica et l'Empire Romain will be decorated in festive Christmas colours.
Are all the attractions open for Christmas with Astérix?
40 attractions will be open during this time. You'll be able to enjoy Tous en Piste! as well! : a big ice-rink, 5 ice slides and a special children's skating area. The water rides (Grand Splash, Romus et Rapidus et Menhir Express) will remain closed.
Which tickets provide admission to Parc Astérix during the Christmas with Astérix season?
Our Liberty, Premium Day, Tribu and Christmas Tickets all provide admission to the Parc from 17 December 2022 to 1 January 2023, from 11pm to 7pm.
Bien préparer ma venue au parc